---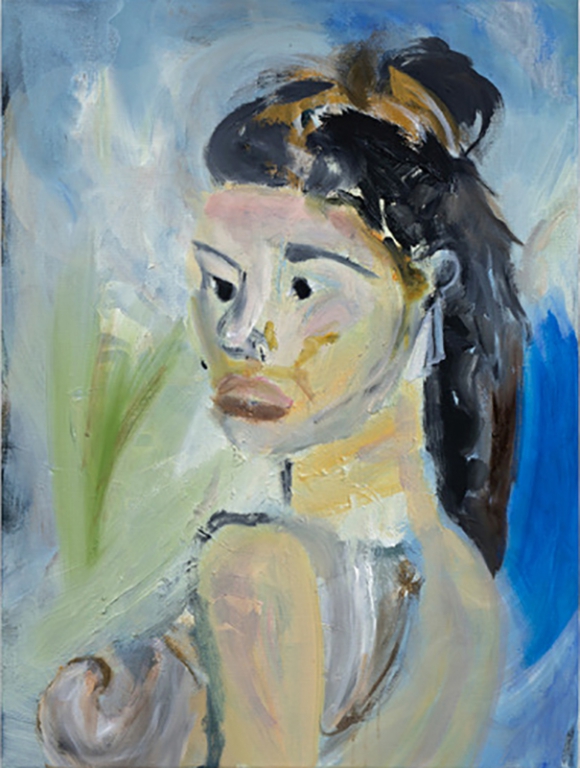 Kim (2018)
gemengde techniek op doek
80 x 60 cm
---
Eva Räder
Eva Räder (1978, Duitsland) studeerde aan de kunstacademie in Berlijn onder Georg Baselitz en Daniel Richter. In 2006-2008 studeerde ze aan De Ateliers in Amsterdam. Haar schilderijen zijn op divere plekken in de wereld tentoongesteld, haar werk is vertegenwoordigd in een aantal privé en bedrijfs collecties, vooral in Duitsland, België en Nederland.
In her paintings Eva Räder interweaves art-historical, mass-media and pop-culture into new pictorial worlds. Räder puts a focus on the depiction of the psychic, multi-layered levels of the human being, with her portraits she creates a genuine reality, she confronts the observer not only formally with an expressive representation, but also with the contradictory nature of the soul and the ratio.

In a long-lasting creative process, which often begins with an impartial impulse, she uses several techniques such as oil, acrylic or watercolor painting. The result is an interaction of apparent chaos and order. The paintings are not abstract, they transform reality in the expressive use of colour, brushstroke and composition. Räder develops a commitment that goes far beyond mere documentarism of the present day and thus set an artistic attitude to the official picture language of the mass media. The paintings invite you to follow the story of seeing. They express cultural peculiarities of society or modern visualization and evoke a projection field of human yearnings, desires and fears. The viewer is repeatedly thrown back on himself and challenged to make his own picture.