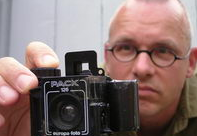 We are proud to announce the five nominees of the Meijburg Art Commission 2018. Oliver Raymond-Barker (1980, UK), Paul Bogaers (1961, NL), Joanne Dugan (1961, US), Hideyuki Ishibashi (1986, JP) and artist collective Fotoromanzo Italiano (IT) were selected from a call aimed at all participating artists of Unseen Amsterdam 2018. The winning nominee will be announced at the opening of Unseen Amsterdam 2018, selected by an international jury consisting of Alessandra Capodacqua (photographer, curator and lecturer at NYU Florence, IED and SACI), Ángel Luis González Fernández (Founder and CEO of the PhotoIreland Foundation) and Wilbert Kannekens (CEO of Meijburg & Co), In their submission, the artists are encouraged and challenged to creatively respond to the world experienced by employees and clients at Meijburg & Co. The winner will receive a production fund to produce new artwork to be added to Meijburg & Co's growing collection in Amstelveen.
"For years it has been my routine to exhibit my work in wall installations (or 'constellations' as I like to call them) because in my view the expression of meaning can be greatly expanded once the mutual references of the individual works are part of the viewing experience. It is my ambition to establish a turn in the traditional approach, in which photographic works are often still regarded as individual pieces to be hung separately on a wall. The nomination for, and maybe even the execution of, the Meijburg Art Commission might be a step in this direction."
In his early works, Paul Bogaers (1961, NL) often combined his photographs with amateur snapshots, newspaper clippings, postcards and other found photographic sources. With his fascination and use of found photography in these works, Bogaers is considered to be one of the forerunners of contemporary photographers interest in found imagery. Bogaers' most recent works expand into the three-dimensional domain, evolving more and more into assemblages and installations. In search of a more expressive power, he extends his photos with paper, cardboard, wood, metal, fibres, glass and found objects. To describe this type of work, Bogaers coined the term "Extended Photography".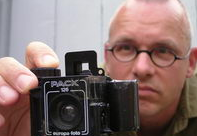 ---
nieuwsbrief
blijf op de hoogte
van het laatste nieuws
---
ontvang onze nieuwsbrief
---